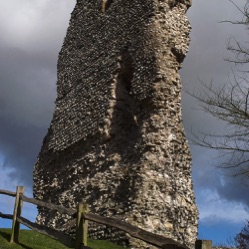 History
Sir William de Braose built Bramber castle around 1070 and added a chapel later in 1075. The chapel features a stone carving of a fox preaching to geese, possibly a Saxon stone masons commentary on the political realities of the era. At one time the church housed a small Benedictine college. 
In 1208 all the de Braose property was confiscated by King John. William de Braose escaped to France, but by 1209 John had captured Matilda de Braose and imprisoned her in Windsor castle where he starved her to death in 1211. After John's death, the castle was returned to the de Braose family. The castle remained in the de Braose family until 1324, when the family line ended. 
The castle was besieged by Parliamentarian forces during the English Civil war in 1642. The church was quite badly damaged when the Parliamentarian guns were set up in the transepts to fire on the castle. Cromwell ordered the castle slighted so that it could not be used again by the royalist forces.
Highlights
Mostly ruined, but a section of the gatehouse and some curtain wall remain
Large mott remains, circular defensive ditch can be walked
Some remnants of interior walls remain
Fine views of the South Downs
11th century church of St. Nicholas is nearby
Visitor Information
Open year round, free admission
Car park, refreshments and public bathrooms in village