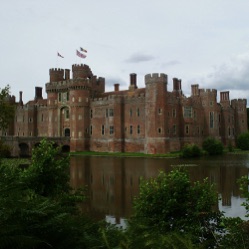 History
Sir Roger Feinnes was granted 600 arces around the village of Herstmonceux in recognition of his service at the battle of Agincourt by King Henry V. Sir Roger used the land to build Herstmonceux castle in 1441, after he received a license to crenelate from king Henry VI. 
Herstmonceux castle is one of the earliest surviving brick built structures in England, after the art of brick making had been lost during the Saxon era. Sir Roger brought in workers from Flanders for their experience with bricks. With its turrets, crenelation and moat, the castle looks defensively impressive, but it was built as a manor house and the castle never saw siege or battle. 
In the mid-18th century the interior was demolished to provide materials for nearby building projects. Restoration work began in the early 20th century and finally completed in 1936. Between 1946 and 1990, the castle housed the Royal Greenwich Observatory. Today it is situated in a beautifully landscaped park and well kept walled gardens.
Highlights
Early brick built castle
Scenic views of the castle across the moat
Picturesque gardens, but currently no interior access
Some outdoor events in the summer
Visitor Information
Grounds are open to the public daily with paid admission
Parking available onsite
Tea room and bathrooms available