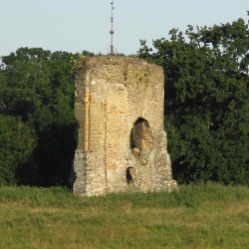 History
Knepp Castle is located in Shipley, West Sussex. There is evidence at the site of human occupation from Saxon times. The castle itself, was built after the Norman conquest by William de Braose, one of William the Conqueror's chief lieutenants. William de Braose primary castle was at Bramber, but he used Knepp as hunting lodge and often invited king John to hunt there. In Norman times the land around the castle was forested and well stocked with deer and boar. 
In 1209 King John seized all the de Braose property and subsequently allowed his friends and supporters rights to hunt at the castle. When it looked as if John might loose the castle in his war with the barons, he ordered Knepp destroyed, but it is unlikely this order was carried out, as King John died shortly after the order was issued.
Shortly before his death, John restored the de Braose property was returned to the de Braose family. The de Braose name died out in the late fourteenth century and the castle passed to the Mowbray and later, the Howard lines. It is not know when the castle fell into ruin, but it has been in a ruined state at least since the early eighteenth century.
The castle is on private land, but can be seen from the nearby A24 road. Shown above are all that remains of Knepp Castle. The weather vane has been a feature since early Victorian times.
Highlights
Only one fragment of wall remaining
Visitor Information
On Private land, but open to public
No car park
No bathroom facilities
Image to left: Knepp Castle by
Antiquary, Wikimedia Commons