King Edward I needed to protect his ability to muster his naval forces and Winchelsea, along with the other Cinque Ports was a key provider of ships and men. When the old Winchelsea was being lost to the sea, founding a new town of Winchelsea on higher ground was a logical step for Edward to maintain the capabilities his navy. The town was on higher ground and surrounded by marsh making it more defensible. The town was originally surrounded by water and marsh, but is now landlocked. The river Brede has silted up and with the retreat of the sea and much of the marsh is now pasture.
The town itself is laid out in a grid and many of the street exist today as they were laid out in the thirteenth century. The map below shows how the town was laid out in 1292. The original map showing the streets and land plots was created by W McLean Homan in 1949 using the rent roll of 1292. I have superimposed the modern streets, shown in red and orange, and which can be walked today. The town is accessible via the A259 which runs north/south on the west side of town.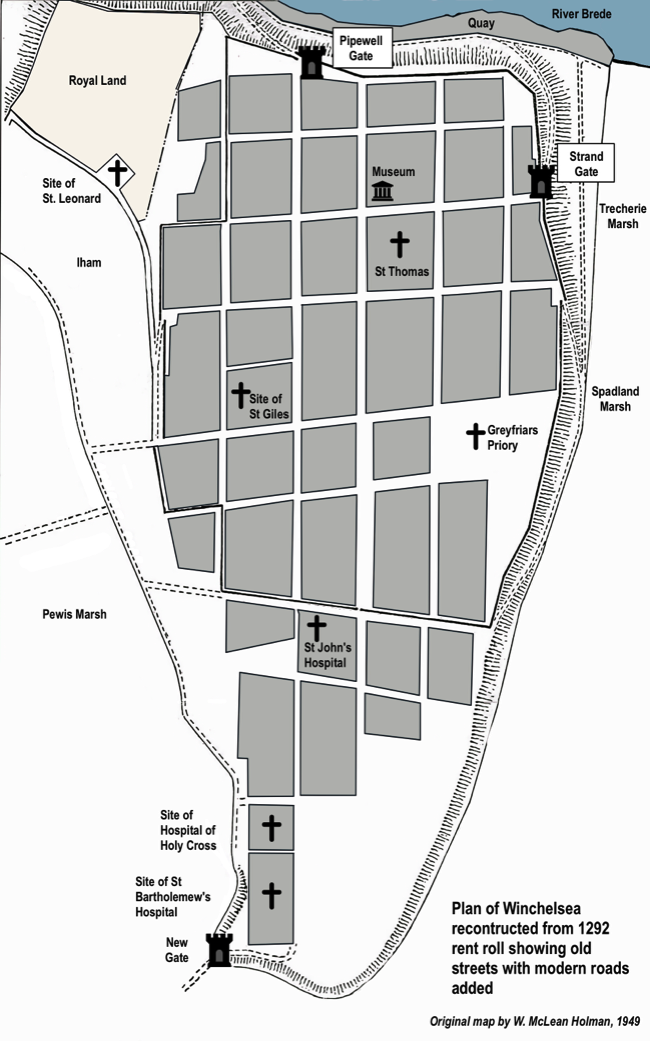 The Winchelsea of today is smaller than in its heyday as a major port, but some older structures remain, including St Thomas church, three of the town gates and a fragment of the St John's hospital. The still remains a ruin of the Greyfriars priory chapel, but this is now on private land and not accessible to the public. Many of the houses at the north of town have cellars that were used in medieval times to store imported goods and wine. While not routinely open to the public, guided tours are sometimes offered.