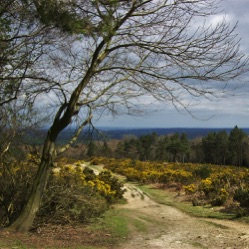 History
In Sussex, an area of the Weald north of Pevensey were afforested under new Norman "forest laws". The new forest was granted as part of the Rape of Pevensey to Robert, Earl of Mortain. In the Domesday book it was referred to as Pevensel forest.
At its largest extent, the forest was approximately 20 square miles. The current forest is approximately 10 square miles and is currently bounded by Crowborough, Forest Row and Maresfield. 
The forest contains some of human activity dating back to the Bronze Age and contains Bronze Age, Iron Age and Roman remains. The forest had been the centre for iron industry dating back to Roman times. While there is limited evidence of settlement within the forest itself, there are a number of villages that grew arond its medieval pale of the forest and many of these are of historic interest. The church of St Andrew and St Mary the Virgin in Fletching, three miles west of Maresfield, was the one where Simon de Monfort spent the night in vigil prior to his victory at the battle of Lewes. The church of St Denys in Rotherfield was founded by the Saxon Lord, Berhtwald after being cured of an illness at the monastery of St Denys in France. The current church dates from the 11th century. The church yard features yew tree reckoned to be over 1,000 years old. One of England's first blast furnaces was built in the Buxted area in the 1490's. The forest is better known in recent times as the setting for A.A. Milne's Christopher Robin stories.
Highlights
Scenic forest landscape
Hiking trails in forest
Medieval churches in neighboring villages
Visitor Information
The forest covers approximately 10 square miles
Refreshments and other facilities available in neighboring villages
Picture to left - Gill's Leap by Poliphilo,
CC0, via Wikimedia Commons