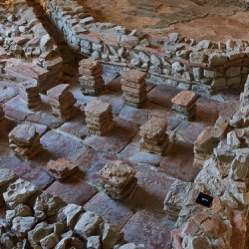 Highlights
1st century Roman palace
Beautiful mosaics and hypocaust
Recreated Roman gardens
Many Roman artifacts in museum
Visitor Information
Open year round with paid admission
On site parking
Cafe, giftshop and bathrooms
History
There is evidence of Roman occupation at the Fishbourne site from around AD43. First as a simple military staging post, but by around AD 100, the site had developed to an impressive palace with over a hundred rooms. 
With a footprint of over 10 acres, it is one of the largest roman residences in northern Europe. Most of the rooms had beautiful mosaic floors, a number of which can still be seen today. Some of the rooms had hypocausts or under floor heating. The building was arranged with four wings framing a large formal garden. Evidence has been found of the plantings in Roman times and the original garden recreated. 
It is thought the palace may have been the residence of a local pro-Roman British chief, possibly Togidubnus (sometimes referred to as Cogidubnus.) Togibubnus took the full Roman name of Tiberius Claudius Togidubnus, in recognition of his benefactor, the Roman emperor Claudius. It is thought that tribes loyal to Togidubnus did not participate in the AD60 revolt led by Boudicca.
None of the above ground building exists today, but the palace is worth visiting for the impressive mosaics and recreated gardens. There is also a museum that displays many of the finds from the site.