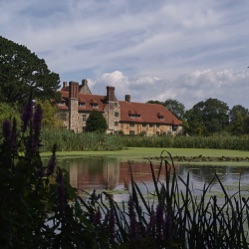 Highlights
13th century fortified monastery
Moat and fortified gatehouse
Priory buildings in excellent condition
Scenic setting and gardens
Visitor Information
Open year round with paid admission
On site parking
Cafe, giftshop and bathrooms
History
Michelham Priory was founded in 1229 by Gilbert L'Aigle. Michelham was an Augustinian order and lived within the local community. Michelham Priory is a rare example of a fortified monastery. The gatehouse and moat were built around 1390 by Prior John Leem, possibly in anticipation of invasion by the French who had in the past sacked, Lewes, Rye, Winchelsea and Hastings in previous years. The gatehouse would have originally been connected to land via a drawbridge, rather than the stone bridge that is there now.
The priory lay on the Lewes to Pevensey road and many travelers would stop and seek shelter for the night. Travelers seeking shelter have included the Archbishop of Canterbury, King Edward I and Thomas a Beckett. Thomas a Beckett had the misfortune to fall in the moat when a bridge gave way. He survived his dunking in the moat unharmed, but was later murdered by knights in the service of Henry II.
The Priory was hit badly by the Black Death in 1349, losing about half its community. The priory went into a decline and was finally closed by Henry VIII and the dissolution of the monasteries in 1537. Amongst other things, Henry is reputed to have stolen the lead from the roof at that time. An addition was added in tudor times and the priory was converted into country house.
The moat is reputed to be haunted by a grey lady. Amongst Michelham's other reputed ghosts are a blue lady, a monk, a white horse and King Harold, who was defeated by William of Normandy at the Battle of Hastings.