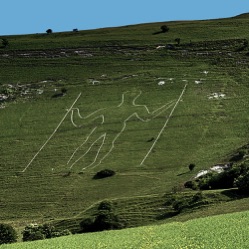 Highlights
Giant figure cut into the chalk hillside
Visitor Information
Open year round
No facilities
Public car park just south of Wilmington priory
Picture to left by Steve Slater,
CC BY 2.0, via Wikimedia Commons
History
The Wilmington Long Man is a figure over 230 feet high cut into chalk of the South Downs. The origins of the Long Man are not clear. Many are convinced the figure is prehistoric, some believe that he is the work of a monk from Wilmington Priory in the 11th and 12th centuries. Roman coins show a similar figure, suggesting that the Long Man belonged to that era. Similar figures have also been found on Anglo-Saxon ornaments.
The Long Man has been subject to a number of revisions and some pranks, including a sex change and a more anatomically correct male version. The outline of the man visible on the downs today is formed of concrete blocks, following what was thought to be the original shape.