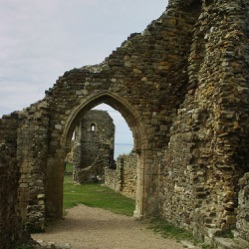 History
Duke William of Normandy built a wooden fort on the cliffs overlooking Hastings shortly after after his victory of the Saxons at the Battle of Hastings. William soon returned to Normandy leaving the fort under the command of Humphrey de Tilleul. Later, William granted the rape of Hastings and the castle to his cousin Robert, Count of Eu. Around 1070, William ordered a new stone castle to be built on the same site.
At its height, the castle had a large stone keep and a church college. Tournaments were held at the nearby Ladies Parlour fields. Some tournaments were believed to have been attended by Adela, King Williams's daughter. Several later Kings visited the castle including, William II, Stephen, John and Edward I.
Hasting was one of the five original "Cinque Ports", that provided the king with ships in exchange for special rights and the ability to raise revenue. Other towns, such as Winchelsea and Rye were added as cinque ports later, but Hastings was always considered the head cinque port of Sussex.
In 1287 a series of violent storms undermined the cliffs the castle was built on, causing part of the castle, including the keep, to collapse into the sea. The castle was attacked by the French in 1339 and again in 1377, inflicting more damage. By the middle of the 16th century, with Henry VIII's dissolution of the monasteries, the castle and its precincts was completely abandoned. In 1824, the ruins of the castle were rediscovered and excavated. The site remains open to the public today.
Highlights
Castle is ruined, some exterior and interior walls survive, dungeons
Great view over Hasting from cliff top location
Take the cliff railway ride from the seafront to the castle
Visitor Information
Open to the public with paid admission
Bathrooms on site, temporarily closed due to covid
Refreshments available on Hastings seafront
Parking in Hastings seafront