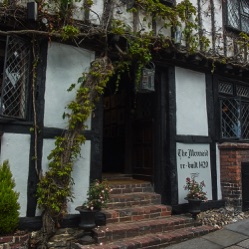 Highlights
Rye is a fishing village dating from the middle ages
Fine view from the top of St Mary's church clocktower
Ypres castle and museum, with cobbled streets
The Mermaid Inn was home to the notorious Hawkhurst smuggling gang
Visitor Information
Paid admission to Ypres castle, a small fee to climb St Mary's clocktower
Large car park near station
Pubs, cafes, shops and public bathrooms in town
History
Rye itself, dates from Saxon times, when it was an island surrounded by sea and marsh. The sea has since moved and Rye is now several miles inland. The island of Rye was given to the Bishop of Fecamp by King Cnut in 1027. Rye remained in abbey hands until 1232 when King Henry III took possession. It was Henry who ordered a castle to be built at Rye, as part of England's south coast defenses.
There were originally 4 fortified gates into Rye. There is one remaining gate into Rye, now known as the Rye Landgate. Ypres castle is one of the oldest surviving buildings buildings in Rye. It was built in 1250 by Roger of Savoy. Roger sold the castle to John d'Ypres around 1430, from who, it takes its present name. The castle currently houses part of the Rye town museum.
Smuggling at Rye first started around the 14th century, shortly after King Edward I introduced a customs system. The Mermaid Inn was a haunt of the notorious Hawkhurst smugglers gang in the 18th century. There are rumored to be secret passages below the Mermaid Inn that lead to the sea and were used by the smugglers to transfer their contraband between ship and shore.
St. Mary's church at the top end of Lion street was built in the 12th century. The original clock, made in Winchelsea in 1561 is still working. It strikes the hours; the quarter hours are rung by the "Quarter Boys" on the outside of the tower. Inside the church are stained glass windows by William Morris. Climbing the tower of St Mary's provides a fine view of the surrounding countryside. In this picture you can see Ypres castle and follow the course of the river Rother out to sea. Today, the Rother flows to the sea near Rye, but this did not occur until the great storm of 1287. Until then, the estuary of the Rother was several miles north in Romney.
The expression "Cinque Ports" derives from the French word for five, cinque. The original 5 ports were Hastings, Dover, Sandwich, Romney and Hythe. The number of Cinque ports was expanded to 7 with the addition of Rye and Winchelsea. The ports were part of England's front line defenses against the French from the 11th century until the 15th. While serving as a Cinque Port, Rye was sacked by the French in 1216, 1339, 1365 and 1377 during the 100 years war. The primary purpose of the Cinque Ports was to provide the King with warships. The ships were constructed for the state and in exchange their makers were given reduced rates of ship tax. The ports were under the control of the Warden of the Cinque Ports.