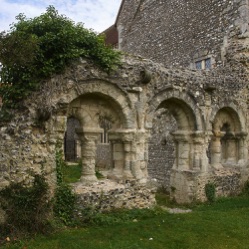 Highlights
Attached church of St Mary and St Blaise has a painted medieval ceiling
Ruins of the dorter and the chapel from the original priory
Fishbourne Roman Palace is nearby (a 5 minute drive.)
Visitor Information
Priory is open daily; the church is open when services are not in progress
No entry charge, but donations toward the upkeep welcome
Limited on site parking
No on site facilities
History
A church has existed in Boxgrove hundred since Saxon times. Unfortunately nothing is now left of that original church. After the conquest the land was granted to Roger Montgomery, the first lord of Arundel. During the reign of Henry I, Boxgrove passed to Robert de Haia, the kings cousin.
De Haia founded the Boxgrove Priory in 1117 with a cell for 3 monks from the Abbey de Exaquio in L'Essay, Normandy. The priory followed the rule of St Benedictine. Under the reign of King Stephen, the cell grew to 15 monks. William d'Aubigny, Earl of Arundel endowed the priory with great possessions, although he did charge the priory 2d, due each year on Lagheday.
At its peak, the Priory buildings included a kitchen, brewhouse, chapter house, warming room, an infirmary, a guest house with undercroft and solar, dove cote and a rabbit Warren. The cloister was a square over sixty feet on each side. The priory belonged to the Benedictine order and was always involved with the local community. Henry III granted the priory the right to three day fair each year on February the third, the morrow of St. Blaise. 
The brothers would go to the infirmary to bleed themselves. It was thought at the time that regular bleeding was important for good health. The infirmary was conveniently located next to frater, so the brothers were able to rebuild their strength with a good meal after bleeding. However, too frequent bleeding was considered an indulgence.
The Hundred Years War broke out during the reign of King Edward III and alien priories in England were seized by the crown. Boxgrove Priory was declared "indgena". This separated the connection between the priory and its French parent, but allowed the priory to retain its possessions and income. 
In 1409 a dispute arose between the monks and the parish vicar. The vicar had not paid dues to the priory, did not participate in ceremonies, but claimed full use of the herb garden. The diocese reviewed the case and sided with the monks. The vicar had to pay his dues and participate in ceremonies, although he was allowed continued use of the herb garden!
The current priory chapel built in 16th century by Thomas West. He had the ceiling painted with the arms and crests of his family by a local artist, Lambert Bernard. This beautiful ceiling may still be viewed today. 
At the dissolution of the monasteries in 1536, there are 9 monks remaining and the priory had an income of £185 19s 8d per year.
At the present day, the chapel of Boxgrove Priory continues to serve as the parish church of Boxgrove. There is a substantial ruin of the guest house, now roofless since the mid 19th century. Sadly little else remains.