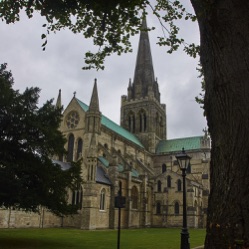 Highlights
Medieval Cathedral with cloisters
12th century stone reliefs
The Arundel Tomb, tudor paintings
Some Roman mosaics visible in Cathedral
Visitor Information
Cathedral is open to visitors daily, except during services
No admission charge, but donations are welcome
Pay and display parking within town, most within an easy walk
Cafe, gift shop and bathrooms in cathedral
History
The christian church had presence in Chichester from roman times. In 956, King Eadwig of the South Saxons granted sixty hides (possibly at Oving, Halnaker, Eartham and Up Waltham) to Bishop Brihthelm and the monks of Chichester. After the norman invasion in 1066, William I gave the rape of Arundel, which at that time included Chichester, to Roger de Montgomery. The see of Chichester was created at the council of London in 1075.
Work on Chichester Cathedral was started in 1076 under bishop Stigand. Stigand died in 1088, but work is completed by Bishop Luffa in 1108. The cathedral was largely rebuilt in the 12th and 13th centuries after suffering extensive fire damage. In 1129 Bishop Seffrid of Chichester attended the great council. The council was held to determine if clergymen should be allowed wives. Many clergy had wives, although the practice had been banned some years earlier. Henry II, ever vigilant for a potential revenue stream, allowed the practice, but levied fees on all married clergy. In 1244 Henry III appointed his man Robert Passlow as Bishop of Chichester. Henry had hoped to intercept some of the church revenue. Unfortunately for Henry, the pope annulled the appointment. Henry was not amused. In 1262 Bishop Richard was canonized by Pope Urban lV. April 3rd became the feast day of St Richard in the Anglican Church.
In addition, Chichester also boasts some medieval wall, built on the roman foundations. The old Guild Hall dates from medieval times and was originally the chancel of a Franciscan friary.